Gear Fixing Problems of Ball Mill
Date:2018-01-23 08:21    Source:Clirik
Ball mill
transmission consists of the pinion gear, gear cover, gear and other components. Ball mill drive bearings are in the double double aligning roller bearings, the gear is a spur gear.
Dust control measures of Ball mill:
In order to prevent dust, we use a dust cover to seal the gear. As the ball mill driven by a low speed synchronous motor, which makes the ball mill transmission system is simplified, that is, the ball mill motor through the coupling directly drives the pinion, pinion and gear meshing make the cylinder rotation. Lubrication of small and big gears in ball mill uses automatic injection lubrication system.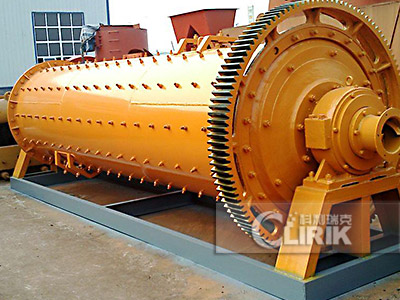 Repair measures of Ball mill:

For maintenance convenience, ball mill transmission can be added slow device, which is used on Ball mill maintenance and replacement of ball mill liner. When the ball mill is shut down for more than 4 hours, the material in the ball mill barrel may be caked. Before starting the ball mill main motor, we use the slow device crank to achieve the purpose of loosening the material. When starting the ball mill slow device, the main motor of ball mill can not be combined; when the main motor of ball mill is at work, the slow device shall can not be combined. The two are linked. Before starting the ball mill slow device, you must first open the high-pressure pump jacking the hollow shaft to prevent scratching the bearing.
Gear installation of Ball mill:
Take the gear cover in the bottom initially in place, temporarily do not fix ball mill; Clean the anti-rust oil on the gear surface, especially the split surface and the simplified flange of the ball mill, the end cap in and out is connected with the surface, polish flat marks caused by scratches, and use steel ruler to check the flatness; From lying down to stand up process of Semi-gear in ball mill, the lower part should be put mat, so as not to scratch the split surface; Hanger half gear buckle in the ball mill cylinder, put the positioning bolts, plus preload. Rotate the ball mill barrel, rotate the half of the ball mill cylinder gear to the bottom, and then lift the other half, also let it fit in the ball mill cylinder, then with the adjusting bolt on the gear to adjust the two half-gear, find positive, until the radial runout of the large round, and the round bounce of the end is in line with the requirements of the drawings, at last tighten all the bolts together.
If you have any other question about ball mill, please leave message to us now!
上一篇:Difficult to start your ball mill?