Talcum Grinding Mill For Sale
Date:2018-01-09 08:32    Source:Clirik
Mica and Talcum Grinding Mill

Mica is a rock-forming mineral, is characterized by insulation, high temperature, shiny, stable physical and chemical properties, has good insulation, flexibility and toughness. Muscovite is the most widely used in industry, followed by phlogopite. It is widely used in building materials industry, the fire industry, fire extinguishing agents, welding electrodes, plastics, electrical insulation, paper, asphalt paper, rubber, pearlescent pigments and other chemical industries.
Mica powder production equipment consists of hammer crusher, bucket elevator, storage silo, vibrating feeder, micro grinding mill, variable frequency classifier, double cyclone powder collector, pulse dust removal system , High-pressure fans, air compressors, electrical control system.


Working principle of Talcum Grinding Mill
When the
Talcum grinding mill
is at work, the main bearing and each dial are driven by electromotor through reducer, and all the grinding rollers are rolling in the ring channels driving by dial through plunger. The materials are driven to the edge of the turn plate by the centrifugal force and fall down into the grinding chambers. The high-pressure air blower constantly inhales air, airflow with crushed materials are brought to classifier whose high-speed impeller will screen the airflow: The unqualified particle size will fall and return to the mill for being reground while the qualified particle size mixed with air will go into the cyclone powder collector. Most of the qualified powders will fall and exit from the discharging valve at the bottom; A small proportion of the fine powders, with airflow, moves to the dust cleaner. The materials from the above two lots are sent by the conveyor to get finished powders packed. In addition, filtered clean air will be emitted from muffler in the end.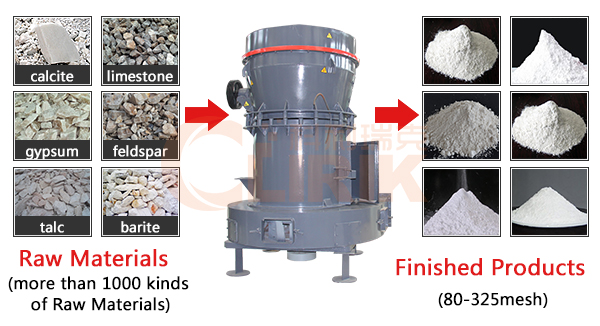 Features of Talcum Grinding Mill
1.The yield is 40% higher than other mills.
2.High utilization rate of Wear material:2-5years.
3.Adjustable particle size:325-3000mesh.
4.High safety and reliability. The design of the mill is rigorous, so no screw loosening to damage the machine.
5.Closed system, so it is the green and ideal equipment for environment protection.
Mica powder specifications:
1-6 mesh, 6-10 mesh, 10-20 mesh, 20-40 mesh, 40-60 mesh, 60-80 mesh, 80-100 mesh, 150 mesh, 200 mesh, 325 mesh, 400 mesh, 600 mesh, 800 mesh, 1250 mesh, 2500mesh
etc. Specifications can be produced according to your needs.
If you need detailed info about Talcum Grinding Mill, please contact us now!
上一篇:How to improve production efficiency of ball mill?
下一篇:Difficult to start your ball mill?